Third runway to cure cancer and end world poverty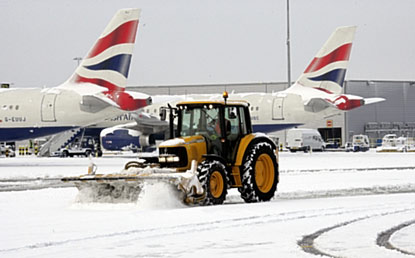 Is there anything a third runway at Heathrow wouldn't do? Not according to its promoters in the aviation industry. The recent snowfall that crippled most of our airports shut Heathrow after a plane skidded onto the icy grass. Some 18-30s club rep from the Association of British Travel Agents thought they'd whack out a press release claiming that it could all have been avoided with a third runway.
This is what scientists refer to as "complete bullshit", but it's not the first time the industry has tried to sell us the runway as the curer of the world's ills. In January last year, when a plane nearly landed on West London, industry pundits queued up to lay the blame squarely on the airport only having two runways. Rather bad taste, you might say.
Sadly this straw clutching is just a taste of things to come as the battle for Sipson gathers pace. Expect more nonsensical press releases from self-publicising organisations like ABTA whenever anything goes wrong at Heathrow between now and whenever the runway gets cancelled. Years of campaigning against airport expansion have taught me one thing: the industry will say anything to get what it wants. Expect a Daily Mail front page linking the third runway to rising house prices any day now.