About Plane Stupid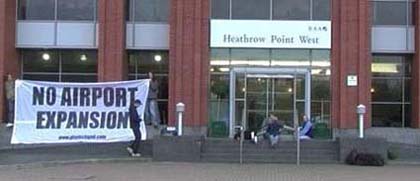 Plane Stupid is a network of grassroots groups that take non violent direct action against aviation expansion.
We have four demands:
End to short haul flights and airport expansion
A significant reduction in the number of planes flying to help address the threat of climate change
Stop aviation advertising
A just transition to sustainable jobs and transport
We came together in 2005 to oppose an aviation industry conference and have been taking action ever since. So far we've occupied Stansted, East Midlands, Aberdeen, Heathrow airports, shut down easyJet and BAA's headquarters, stopped private jets at Biggin Hill, London City and Edinburgh airports; sat atop the House of Commons and the Scottish Parliament, supported the Camp for Climate Action at Heathrow, worked with local residents to defend their homes from the bulldozers; exposed a corporate spy and chucked green custard over Peter Mandelson.
Plane Stupid reformed in 2015 after the Airports Commission recommended Heathrow Airport to expand. In 2015 we occupied the northern runway at Heathrow Airport, grounding planes for some hours, and later in 2015 we blocked the main road tunnel entrance into Heathrow.
We organise horizontally, by consensus and without leaders.
You can contact us on press@planestupid.com or on twitter @planestupid
You're welcome to carry out protests in our name, as long as you are accountable, non violent and focusing on aviation expansion.
We'd love the network to expand, and can offer support and training for anyone wanting to start a new group. Call us and we'll talk you through how to track down like minded people in your area, or get your existing friends discussing how they might want to take action.
We sometimes get enquiries from people wanting information about more conventional campaigning. We're not best placed to give advice on petitions, lobbying or legal challenges. For help with this sort of work we'd suggest you get in touch with the good people at Airport Watch.