Government announces Heathrow expansion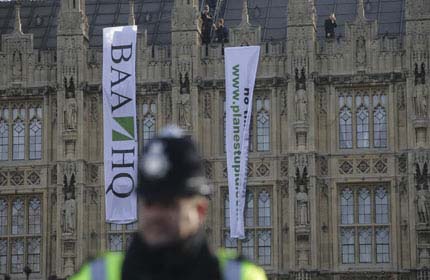 So there we have it. A third runway sweetened with some token greenwash. It's pitiful that the Cabinet members who originally opposed the plan have been swung by Hoon's wishy-washy promises. At least John McDonnell had the strength of character to take a stand, getting banned from Parliament for a week after barracking the Transport Secretary.
The Civil Aviation Authority is a puppet regulator so letting them act as eco-watchdog is like putting the Kray twins in charge of the Met Police. As for 2050 targets: Hoon and his colleagues will be pushing up daisies long before anyone is brought to account for breaching them. As for high-speed rail: Hoon's uncosted, unqualified and unsubstantiated references are not worth the hot air they're printed on.
It's laughable that this Government thinks that building a runway in 2015 will halt a recession in 2009; unless, that is, they're thinking of jobs in prison construction. Half of middle England will be arrested stopping this monstrosity, so we'll need a lot more jail cells before this whole debacle is over.