Boris to fund Heathrow legal challenge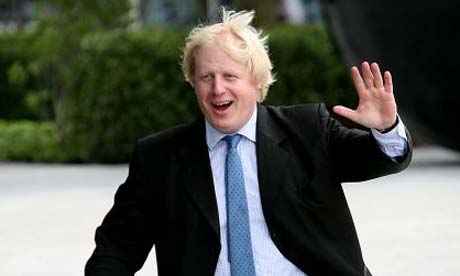 Proving that our finger is on the pulse of all things aviation related, Plane Stupid can exclusively reveal today that Boris Johnson has agreed to part-fund a legal challenge to Heathrow's expansion. (Exclusively, because everyone else ran this story last week.) London's mayor has stumped up £15,000 to help 2M prepare a challenge based on breaches of the EU-set NOx limits.
In 2010 a series of NOx limits will come into effect, and any country who breaches them will meet with heavy fines. It's expected that Governments would have taken steps to reduce emissions to avoid the fines, but there are already breaches at Heathrow airport and no sign of any action to reduce NOx levels. We're not very optimistic of any either, given that this would basically necessitate closing the M4 or the M25, or digging up runway 2. The current solution is to push for a 5 year exemption... basically to postpone the enevitable.
If Heathrow is already breaching NOx limits then building another runway is unlikely to reduce its emissions, so the councils, backed by Boris, are to take the UK to court to challenge the expansion plans. I think they've got a pretty strong case - after all, BAA had to do all sorts of fiddling to rig NOx levels in the consultation document. I suppose I should be grateful to BoJo for his cash - but given that he's supporting expansion at City Airport, I'm not. Green with one hand, blue with the other.