Virgin update: sour grapes (and coconuts)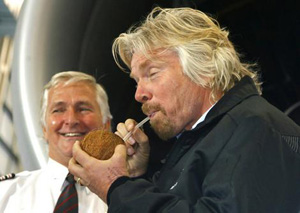 Oh dear. This weekend we ran a story about how Virgin had been 'freeped' - they'd posted a poll online to gather support for the third runway, only for 94% of people to vote against expansion.
Virgin promised that they would show the poll to the DfT, but news has reached us today that the poll has disapeared - although links to it still exist on their website. Yesterday afternoon it stood at 96% opposed - with over 700 votes against the third runway. Surely El Branson can't have pulled the plug just because people didn't agree with him? Maybe he's sulking, after everyone dismissed his fancy biofuel project as greenwash?