Greenwash my jets, Branson tells students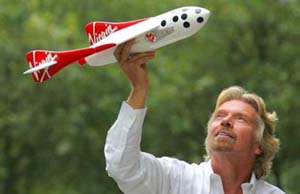 Richard Branson, part-time eco-warrior, part-time carbon criminal, spent today opening a new university and asking students to help him 'think green'. Branson wants students to pitch into his efforts to reduce the emissions from his growing fleet of trans-Atlantic aircraft.
"Among ideas the entrepreneur is inviting undergraduates to consider are lightweight seat to improve fuel efficiency, Virgin Atlantic uniforms made from recycled materials and energy efficient facilities at airport terminals."
Our spy-in-the-sky reports that Mr. Branson's suggestions met with hushed giggles from the students, who pointed out that grounding Virgin aircraft and stopping plans for space tourism might do more for reducing emissions than dressing trolley dolleys in costumes made from old duty-free bottles.