Airline websites mislead public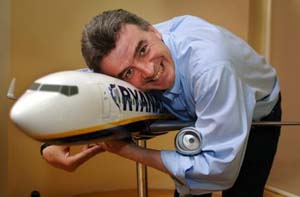 Hot on the heels of the Advertising Standards Agency's ruling on Ryanair, the European Commission has found that at least 200 airlines' websites are "misleading" the public.
According to the Commission, common issues include prices on the home page that did not include taxes and charges, 'free' flights that were not free and compulsory purchase of insurance attached to an offer.
Happily though, the EC declined to name any of the airlines involved, to "give them time to improve their service". With over 200 covered, I'd go so far as to guess that's most of them.
When the ASA found Ryanair once again guilty of misleading the public, it threatened to bring sanctions against the airline. Now that we know the rot is industry-wide, isn't it time the EU reigned in this crooked cabal, and put a stop to this 'cheap' flights nonsense? I'd vote for big stickers on the adverts: "If we told you the true cost, you'd go by rail".
P.S. I concede that the above image has nothing to do with this story. I just like publishing photos where O'Leary looks stupid.