Sentencing & demonstration: Wed 24th Feb, 9am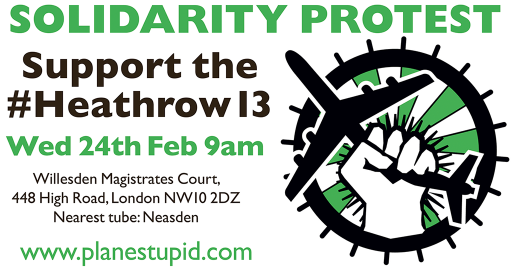 The #Heathrow13 will return to court for final sentencing, having all been found guilty of aggravated trespass and entering the security restricted area of London Heathrow Airport's north runway. All 13 have been told by District Judge Deborah Wright that they "should all come expecting custodial sentences".

Please come and join us outside the court at 9am sharp, together with Heathrow residents and others, to say that climate justice is the only appropriate form of justice here, and that we need to Stop Aviation Expansion & Stop Co2lonialism! Wear red clothing to show that that prison time for protecting the climate is a #Redline. Sentencing is expected to take 1 to 2 hours.
The full address for the court is:
Willesden Magistrates' Court
448 High Road
London
NW10 2DZ
Nearest tube: Neasden or Dollis Hill (Jubilee Line)
For the latest info see the Facebook event.
No one will be allowed to stand in the public gallery - only to occupy the 26 seats which will be ticketed, following a letter from the court. These tickets will mostly go to family of the defendants. After the judge told the defendants to prepare for prison, people in the public gallery had shouted out, "shame on you", "this is a farce" and "history will judge". The letter says the new restriction is due to "a potential risk to health and safety". The court has also said "access to the concourse of Willesden Magistrates Court will not be permitted to anyone not in possession of a ticket [except] press" because "on the last occasion there was a great deal of noise". There had been clapping and cheering after the defendants left the courtroom.
Speakers will include MPs, residents who would lose their homes to new runways, environmental activists and voices working with communities on the front line of climate change, floods and drought. Why not print off a picture of David Cameron's face and tie some elastic to it for a mask? After all, he opposes new runways at Heathrow, 'no ifs, no buts'.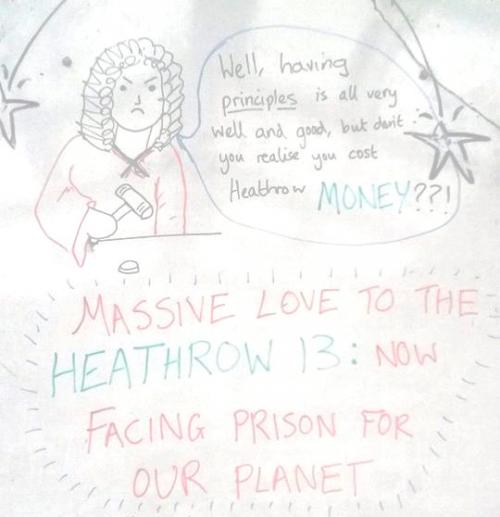 Separately, the trial for the three activists who blockaded Heathrow's road entrance tunnel will be on Tue 19th and Wed 20th April at Willesden Magistrates Court. Start time is 10am - arrive by 9.30 for a bag check. They pleaded not guilty to a charge of breaching a specific Heathrow Airport byelaw: obstructing a tunnel/tunnel access road at Heathrow Airport. This carries a maximum sentence of a fine.