Plane Stupid adverts mocking Gatwick Airport appear on the tube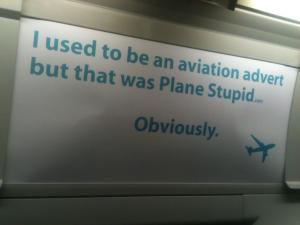 Plane Stupid posters mocking Gatwick's new "obviously" advertising campaign (see below) have started appearing on the tube network across London this morning.
Plane Stupid members were out from the early hours of this morning placing at least 300 posters across the London Underground train network.
The poster reads:
"I used to be an aviation advert. But that was Plane Stupid. Obviously".
This mornings subvertising effort was done in opposition to a recent Gatwick advertising campaign called "Gatwick Obviously" which is desperately trying to make the case for expansion of Gatwick Airport instead of at Heathrow or the Thames Estuary.
Barry Jones, 27, a Plane Stupid activist who took part in the protest said:
"Airport expansion is not the right answer in a time of climate crisis; at Gatwick, Heathrow or anywhere else. What the aviation industry has managed to do, partly through it's excessive spending on advertising, is to hijack the debate to make it appear that the only thing up for debate is where a new runway will go.
He added:
"When actually, the facts show that we cannot have any airport expansion if we want to meet our climate change reduction targets at the same time. When you add in the noise problems, air pollution and community blight caused by airport expansion then the case for expansion falls apart as it did before in 2010".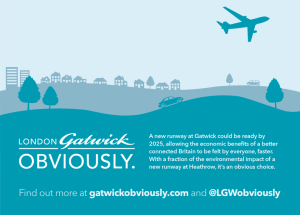 If you spot any of the posters on the tube please take a picture and email them to press@planestupid.com or you could tweet it to @planestupid