Plane Truth book review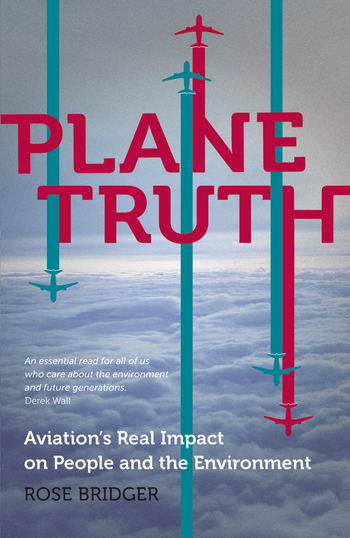 Easily one of the most comprehensive reviews of aviations impact on the environment, 'Plane Truth' has all the facts required to destroy the aviation industrys arguments for expansion.
Author Rose Bridger is clear that we cannot have endless aviation expansion by simply creating quieter and more efficient planes. The effect of more efficient planes is minimal at best and profit seeking greenwash at worst. The chapter on alternative fuels is one of the best as Rose proves that alternative fuels such as biofuel and others are both unproven and totally unsustainable.
Despite the introduction of cheaper flights over the last two decades Rose points out that "flight remains the preserve of a small minority, who are, in global terms, affluent" but yet the impact of these emissions has implications for everyone.
Rose picks apart the economic case for expansion by for example looking at the tourism deficit in the UK which highlights how more money actually leaves the UK through aviation than income made from inbound tourists. She also highlights how the aviation industry is one of the most subsidised industrys here in the UK but also in the US and other countries round the world. In the UK aviation pays no VAT and is exempt from paying tax on its fuel.
Do we as a country want to protect lifestyle habits of primarily the rich while devastating efforts to combat climate change in the process? After reading this book the answer to this question is a big fat NO.
The book is available to buy at Pluto Books