Reshuffle has "u-turn" written all over it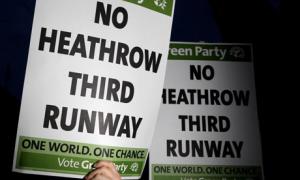 Like the steady roar of planes coming in to land over West London, the aviation industry keeps droning on about expanding London's airports. Last week's reshuffle shows Cameron and Osborne are listening to them too.
Justine Greening and Theresa Villiers, two Ministers with whose opposition to the third runway was well known, have found themselves shunted out of the Transport Department. A Number 10 official sniggered that Greening would "have plenty of time to think about runways as her flight to the next developing country circles the airport yet again." (Which doesn't even make sense, because why would a plane flying to a developing country be circling at Heathrow? Unless Cameron thinks the UK is a developing country? Anyway, I digress.)
Cameron and Osborne have established an inquiry to look into "the scale and timing of any requirement for additional capacity to maintain the UK's position as Europe's most important aviation hub". Lest this loaded question prove anything other than a licence to lay tarmac, they asked the former head of the Confederation of British Industry, Howard Davies, to oversee it. Davies was once a special adviser to the climate change denier Lord Lawson. He had to leave the LSE after he was busted for nodding through some chunky donations from Gaddafi's son. Davies won't decide to build a third runway until 2015, which means all three parties get to run on a "no third runway unless the commission tells us to build it" platform at the next election.
Residents needn't worry though, because Boris Johnson is on the case. He's set up a rival inquiry, proving that the invisible hand of the free market will ensure competition. The Mayor's inquiry will report in 2013 and, like the government's commission, will conclude that we need lots of more runway space, because that's what it is being asked to do. Given that no one is going to build a runway in the Thames Estuary – his preferred solution – Boris gets to oppose the third runway while making it ever more likely that Sipson and Harmondsworth will be buried under tarmac.
None of this means that the third runway will be built, of course. The strongest argument against it isn't climate change, it's that the damned thing has no purpose. There is bags of spare capacity at Heathrow, Gatwick and Stansted airports, which is why Virgin Atlantic was able to offer new routes between London and Manchester days after losing its West Coast train franchise. Using all that spare capacity would be stupid, of course, because flying causes climate change, makes loads of noise and pollutes the air we breathe. But let's not forget it's there.