Boris's idea will never fly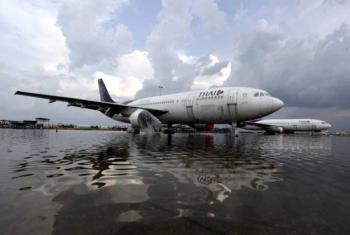 Wednesdays announcement that the government will consider building a new airport in the Thames Estuary, dubbed 'Boris Island' sparked a long day of media hysteria.
Boris Johnson's voice echoed out over our TVs, Radios and newspapers the next day and Plane Stupid came under pressure to get a representative to appear on Sky News and Newsnight in response.
We are totally baffled by it all. 'Boris Island' airport is to be built on an artificial island and would result in 150 million more passengers a year which is serious bad news for the climate. We can't allow airport expansion on this scale and meet our climate change reduction targets at the same time – the two government policies are mutually incompatible and cannot both succeed.
The other little problem is the fact that the Thames Estuary is basically a bird sanctuary. Birds and planes don't match – simple as that.
Here are some other useful facts that need to be included in the debate:
The UK fly on average twice as much than any other country in the world already.
The most popular destination out of Heathrow is Paris and 3rd is Manchester. If we reduced these unnecessary flights there would be plenty of capacity at Heathrow Airport
Aviation is the fasting growing source of greenhouse gas emissions.
If aviation grows at its projected annual rates then aviation will take up 100% or more of our national carbon budget some time between 2030 and 2050.
Between Heathrow, Gatwick, Stansted, London City and Luton; London already has 6 runways and 10 terminals.
Only Boris could come up with an idea as daft as this, building an airport in a tidal estuary when we are facing a future of rising sea levels due in part to emissions from aviation.
For now we will just be keeping a close eye on it but if given the go ahead the Thames Estuary Airport could represent an activists dream. Building an airport on an artificial island is such an enormous logistical project that it would be child's play to disrupt it!