Site battles: the second runway at Manchester Airport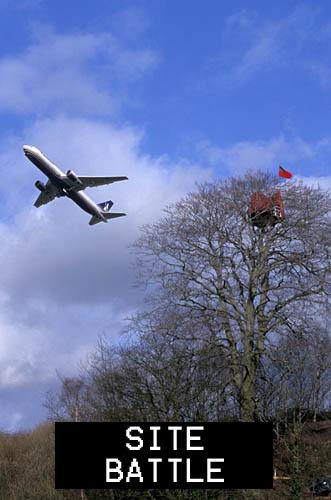 Thursday 17th February 2011
7:30 pm
University of Manchester Students Union - Council Chambers
In the late 1990s, people from across Greater Manchester united to oppose a second runway at Manchester Airport. Whilst local villagers marched and rallied, environmental protestors occupied tree houses and dug tunnels on the land where the runway now lies.
Ten years after the opening of the second runway - we ask, what happened and what's changed? What is the impact of the Airport today both on local residents and globally in terms of climate change? Who is challenging the Airport today and why?
Join us for this photo exhibition and speaker event with original video footage from the protest camps and hear from people who were involved at the time.
We will also be joined by Melanie Strickland from Wild Law UK who will address the problem of what is missing from our legal system that allows environmentally destructive projects such as new runways to go ahead. What solutions are being proposed to these problems?
The event has been co-hosted by People and Planet and Manchester Climate Action in the run up to the trial of six activists facing charges for a protest action at Manchester Airport. The four day trial begins on Monday 21st February at Trafford Magistrates Court.
For more information see: