Ambulance worker tells court that Plane Stupid protestors did not delay ambulance flight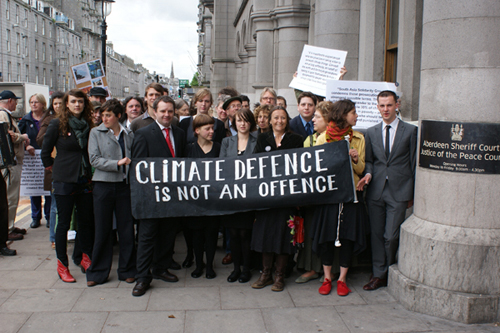 The trial of the Climate 9 protesters in Aberdeen heard yesterday from an air ambulance witness that the protesters were not responsible for delaying an air ambulance, as had previously been suggested during yesterday's evidence for the prosecution.
The written statement from Stephen Wright of GAMA Aviation – the firm in charge of air ambulances out of Aberdeen Airport – given to police on Tuesday 3rd March 2009 shortly after the protest ended stated:
"I became aware that there was some form of protest on Aberdeen Airport this morning, I picked up this through the media prior to attending our site. I have contacted my Operations manager, who works out of Farnborough Airport, regarding this matter and he informed me that he in turn had contacted the Aberdeen Airport Duty Manager and he in turn informed us (GAMA Aviation) that due to our flight type, was not going to be interfered with and our flight slot was guaranteed.
"Our flight was scheduled to take off at 8.00am this morning, but in fact took off about 8.35am, but this was due to our operational delay by the medics and not the protestors.
"This incident has had no financial or life threatening or operational impact on our operation.I have no complaint regarding this matter. I was seen later by the police and gave this statement."
During cross-examination Wright confirmed that this was the case, countering prior claims, both during and immediately after the action and yesterday in court, that the defendants were not at fault for endangering lives during the air side action.
Juliana Napier, from the Climate 9 defence committee said:
"This evidence is incredibly important in establishing what happened during the action. The Climate 9 freely assembled inside Aberdeen airport to stop the harmful emissions causing runaway climate change and raise awareness of the issue. They did this to ensure that our own and future generations can enjoy good health in a healthy environment not to endanger the lives or health of anyone."
The prosecution will present witnesses for the next few days and the trial is set to continue until the end of next week.