Heathrow legal challenge launched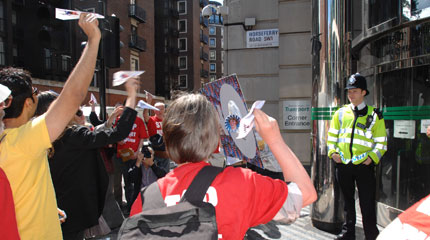 The first legal challenge to Heathrow's third runway has been launched: a coalition of thirteen groups, including local councils and NGOs, has brought a judicial review of the consultation process. If successful the Government would have to scrap its blatantly fraudulent consultation and start the whole process again.
Calling in the lawyers is so commonplace now that I can't help but wonder why the Government keeps getting caught by them. It was only a couple of years ago that they got stung by Greenpeace over the consultation on nuclear power, in which they were held to have prejudiced the outcome by announcing in advance that they wanted new nukes all over the country.
So how did they launch this consultation? By colluding with BAA to rig all the data, to make it look as though Heathrow could expand within strict "local environmental limits", and by announcing at every opportunity that they were "minded" to expand, but needed to ask us exactly how they should do it. I'm looking forward to hearing from DfT's legal beagles as to how being "minded" does not mean "building it whether you like it or not".
It's clear from the outcome that the Government wanted to build the third runway. The only consultation we had was on the immensely technical (and rigged) analysis of the environmental and traffic modelling - there was no question that the runway was getting the go-ahead. It was, as Swift put it more elegantly than I, not a question of whether we should be eating the baby, but rather, whether it would taste better boiled or fried.