Sipson photographer harrased under Terrorism Act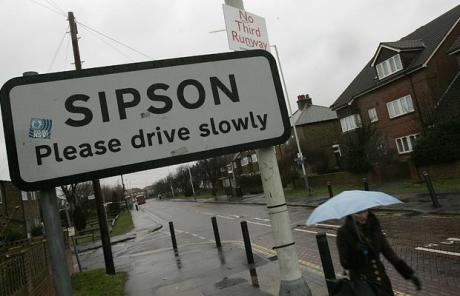 Have you ever been so angry that you can't speak properly? That happened to me last week when I discovered that, once again, the Police were harassing people coming to support us in our fight against BAA's efforts to bulldoze Sipson and parts of Harmondsworth to build a third runway.
Brett, an American student studying for his Masters has been in Sipson for the past month or so, photographing residents whose homes are under threat. We like having him around, but the police don't, and have regularly stopped and searched him. We don't understand why, but they've been have using section 44 of the Terrorism Act because he is photographing "near Heathrow airport".
Look on the map. Most of the village is a good mile from the airport, and hundreds of us take photos here every week. Last week he was stopped for taking pictures outside the King William IV pub. Local people like myself were outraged.
People came out of the pub and started photographing the police (four of them in a van) on their mobiles, at which point the police said they would arrest them too. I'd like to see them try! In Sipson activists and residents are determined to stand shoulder to shoulder against this invasion of our community.