Stansted expansion challenged in High Court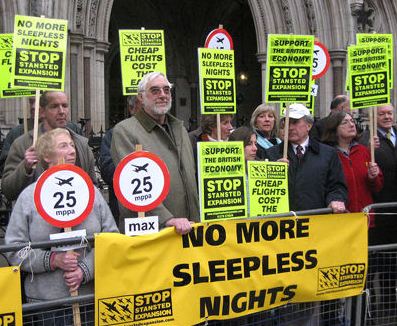 Further problems for BAA at Stansted; just as it tries to cope with falling profits and passengers. A coalition of airlines, including Ryanair ("idiot bloggers") and easyJet, have written to Ministers seeking a one-year postponement of the second runway inquiry. Now Stop Stansted Expansion has launched a High Court challenge to last summer's decision to increase flights. If they're successful BAA will be right back where it started, but several million pounds worse off.
The thrust of their argument is absurdly simple: the inspector was wrong to ignore the climate change, economic and noise impacts of the airport. During the Air Transport White Paper consultation the Government justified airport expansion because individual plans would get scrutinised at public inquiries. This meant that the Government could ignore the impacts of expansion, but also that the inspector should have taken account of those impacts when he reached his decision. He didn't; ergo the High Court challenge.
The High Court hearing ends today, with a decision expected a few weeks after. It's pretty clear to me that they have a great case, but then judges have a funny tendency of disagreeing with me. Either way there will be huge ramifications for airport campaigners and airport operators: if SSE are successful then inspectors wouldn't be able to defer CO2 discussions to the Government any more. Fingers crossed the judge sees sense, not pound signs.