Heathrow decision delayed as Hoon rules out Commons vote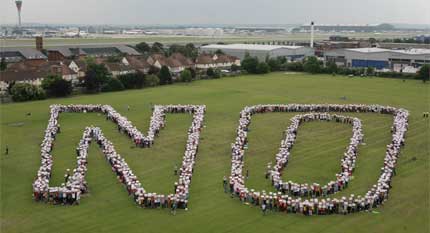 With everyone expecting an announcement on Heathrow next Tuesday, Transport Supremo Geoff Hoon has decided to delay his decision until next year to give himself more time to decide. It's no surprise that he's stalling for time: councils across London are gearing up for a judicial review and Hoon needs to be seen to have thought about his decision very carefully.
There are also rumours of a seismic split in the Cabinet, with a strange coalition of Harman, both Milibands and Hilary Benn on the opponents bench. But forget about democracy: Hoon also vowed not to let the Commons vote on expansion (because he'd lose - over 50 Labour rebels signed an EDM against expansion, wiping out Labour's majority). It makes a mockery of Brown's statement that "decisions should be taken on the floor of this House" when we scrambled about on his roof.
This dithering really isn't good enough: Sipson and West London have had the spectre of expansion hanging over them for far too long. The Government needs to come clean and tell us whether the runway is going ahead or not. After all, there's the long, hard work of building barricades to be sorted - or organising street parties, in the unlikely event that Labour comes to its senses and does the right thing.