'Commons Five' slapped on the wrist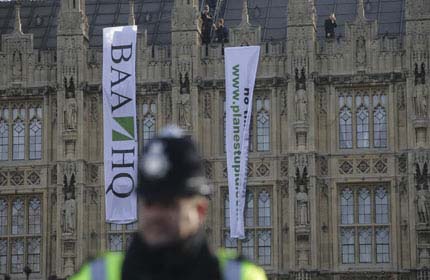 The five Plane Stupid activists who marked the end of the Heathrow consultation by scaling Parliament and unfurling banners have been found guilty... and punished with a £365 fine. Not bad, all things considered. The day-and-a-half trial saw the five - Olivia, Leo, Tamsin, Graham and myself -  accused of section 128 of the Serious and Organised Crime and Police Act: trespass within a restricted area.
Given that the world's media had covered the action and had photographed us up there we didn't deny it, but were arguing that we had broken the law to prevent a greater crime. It's the same defence Greenpeace used last month when they were acquitted of damaging Kingsnorth coal-fired power station. We spoke about the corruption that had gone on between the DfT and BAA - the moving of the NOx meters further from the source of the emissions to make the readings lower; the invention of new 'green' planes that no one planned to build and other desperate attempts to rig the outcome from the start.
The judge wasn't convinced our defence applied - it all comes down to whether we used force or not - but after being presented with written evidence from climatologists, MPs, campaigners and other experts he agreed that something untoward had gone on. He found us guilty (because he remained convinced we couldn't run our defence) but then handed out the most minor of punishments: £150 fine, £200 costs and a £15 'victim surcharge' (presumably to buy some locks for the unlocked doors we waltzed through). It's a great result, and I just hope that the activists who boarded a coal train earlier this year get off equally lightly...