Plane Stupid vs the Government - Parliament protestors in court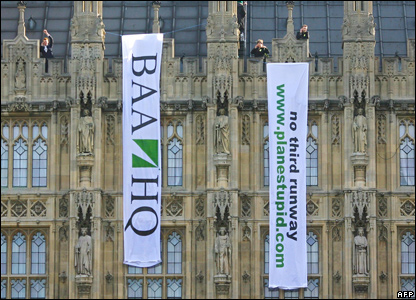 On Monday the five Plane Stupid protestors from the Parliament rooftop action plead not guilty to charges of being in a restricted area - section 128 of the Serious and Organised Crime and Police Act. We're back in court in late July, with a trial likely to take place in September.

There's no denying we were on the roof, but we think we had a lawful excuse - trying to stop the Government and BAA working together to sneak a third runway past the electorate. What's our evidence? Well, there's the Greenpeace 'BAA files' for starters, then a healthy chunk of paperwork exposed by the Sunday Times (1, 2, 3, 4, 5).
When the nitrogen oxide data was getting too high, BAA and the DfT worked together to move the readers further away from the airport. When BAA didn't like some of the questions in the consultation, they got to re-write them. The DfT is a minute's walk from the court room - perhaps the officials would be gracious enough to appear and explain themselves?