Thank you for flying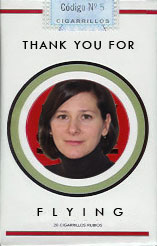 Amongst last week's astonishingly supportive media carnival, there could be heard a lonely voice denouncing our actions on the roof of the Commons. That voice belonged to Michelle Di Leo, of comedy aviation industry lobby group Flying Matters.
Flying Matters are the leading purveyors here in the UK of the kind of 'discourse' analysed by the boffins in my last blog; in some respects they are a bit like Plane Stupid's Evil Twins, regularly popping up in the papers and on telly saying outlandish things in support of their industry's expansion plans. Like the luminaries celebrated in the 2005 feature film Thank You For Smoking, Flying Matters' main purpose is to mislead policy-makers and the public about the harm caused by their client industry.
Back in the summer I had occasion to share an interview with Ms Di Leo, early in the morning after the massive last night party at the Heathrow Climate Camp. I entered the fray at rather less than full strength, and despite Ms Di Leo spouting her usual misleading twaddle I definitely let her get a few in, which really got my goat at the time. Last week Leila and I met her again, on a phone-in to BBC Radio Wales just before the end of the rooftop protest. Revenge at last! The best bit is where Michelle claims to work not for the aviation industry, but for a coalition of organisations that protect the interests of working class families, ethnic minorities and farmers in the developing world...
Sadly Ms Di Leo and chums aren't the only source of unscrupulous aviation industry discourse; for your homework, try checking this article by Martin Broughton, the Chairman of British Airways, against the checklist of disingenuous claims and spurious arguments in my last blog. Yep, they're all there...