Stansted expansion is declaration of war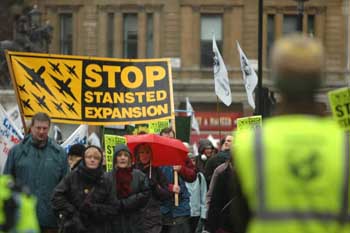 The public inquiry into lifting the flight cap is not even finished, and already BAA are eyeing up the true prize - another runway and terminal at Stansted airport. While everyone's eyes are on Heathrow, the Airport's owner unleashed monstrous proposals to double the size of the airport by 2015 and serve 68 million passengers a year by 2030.
Unsurprisingly, Stop Stansted Expansion have taken this rather seriously, calling it "tantamount to a declaration of war on the local community and global environment", and have vowed to use "every means at its disposal" to defeat the plans. But it's not just SSE which is up in arms over the plans. Essex County Council have vowed to fight it "tooth and nail"; the Eastern Regional Green Party dismissed the plans as being "driven by corporate greed and blind ignorance to what they are inflicting on communities and the environment." Even the National Trust is up in arms, because of the impact on nearby Hatfield forest, 10,000 years old and counting.
What does Plane Stupid think of these plans? Do you even need to ask? We'll see you at the barricades!