House of Commons: Media round-up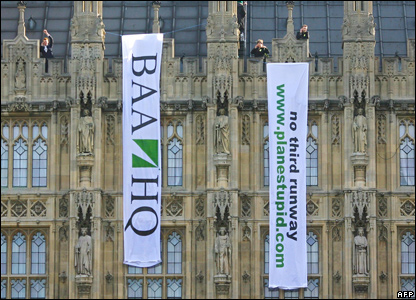 Wow. What a few days for Plane Stupid! Here's a round-up of the some of my highlights of the coverage from the action at Parliament.
A personal favourite for me was the Sun expressing doubts about the third runway. The Sun said, "Beneath the antics on the Commons roof lies a serious issue that matters to millions. Airport noise and pollution blight many lives. Expanding Heathrow may benefit the economy — but at what price to the environment?"
Then there was the Evening Standard. I think it's fair to say they're not the climate movement's biggest fans. But even they said: "We should beware of overreacting…Whilst such protests may be irresponsible, they are part of the democratic process – and prove Parliament's continued centrality to it."
The Telegraph slapped a beautiful picture of Olivia throwing a paper plane on the front page yesterday and described Plane Stupid as "middle class and militant". They, like a number of the papers, repeated the myth that my dad is an airline pilot. He's not, but its true my late grandfather was.
The Guardian's George Monbiot and Polly Toynbee joined the Lib Dem's Chris Huhne to discuss the protest in a podcast. They were all really positive about it. The Guardian's transport correspondent described how Graham and Richard met on an anti-war march, and were radicalised by the failure of more conventional types of demo. You can read Richard on his own action in The Guardian too.
Then there's the Guardian's influential Jackie Ashley who wrote on Commentisfree.com that "Direct action is back." She continued, "What's the most cheering picture of the week so far? It has to be the triumphant, smiling young woman protester on top of the Commons, complaining about the Government's cave-in to big business over the expansion of Heathrow airport. She told friends she had been inspired by the suffragettes. Go, that girl!"
Of course, there are always the grumpy, corporate shills like Brendan O'Neill - but this time around he and his friends were definitely drowned out. All this before the Sundays hit the stand. Any one else think we're winning?