Heathrow consultation: expansion opposed by boroughs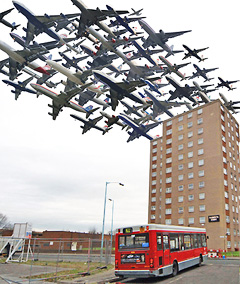 As the consultation deadline approaches, councils across London stand united against expansion. Hounslow, Windsor and Maidenhead, Kensington and Chelsea, Lambeth, Wandsworth, Hillingdon and many others are all opposed to expansion. Of the councils near the airport, only Spelthorne supports expansion, although rumours of bribery are emerging, after BAA promised to supply mobility buses to the cash-strapped borough just before it pulled out of the 2M group.
Of course, Lord Soley, Acton resident and head of Future Heathrow, supports expansion. He paints a horrible picture of London's future without an aviation industry given carte blanche to expand at will. "Unless we get permission for this runway we are stuck. Passenger numbers are stuck, destinations are going down and we will have to close Heathrow." Sounds great Clive: on behalf of the two million people who can't get a good night's sleep because of planes overhead, where do I sign?
Want to show the Government you don't support expansion? Come to the Westminster rally on Monday the 25th of February. 7pm, Central Hall.