You noble residents all, stand up now, stand up now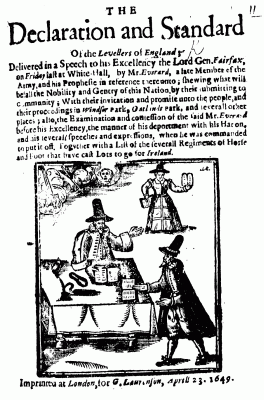 They may not be the Putney Debates, but there's not a lot in it. Residents' meetings held throughout West London have been so over-subscribed that organisers have had to move the location or turn residents away.
The meeting in Putney saw over 700 people queuing to get into St. Mary's Church ("the biggest attendance at any airport meeting ever organised by the council and the biggest public meeting in 20 years" according to a local councillor). A meeting at Chiswick earlier in the week saw over 1,000 people turn up, and organisers had to persuade the local choir to hold their practice elsewhere. A meeting in Richmond-upon-Thames was attended by over 600 people.
There are meetings all over London (details after the jump), so if you have any questions about the expansion, or if you just want to make your voice heard, make sure you go to one. There's also the Central Hall rally on the 25th of February, so if you only go to one event, make it that one!
Tuesday 22nd January, 7.30pm West Ealing, West Ealing Residents, St James Church, St James Avenue, West Ealing.
Thursday 24th January, 8.00pm Stanwell Moor, the Village Hall, Stanwell Moor.
Tuesday 22th January, 7.30pm Hounslow, Civic Centre, Lampton Road, Hounslow.
Tuesday 29th January, 7.30pm Staines, Staines Methodist Church, Thames St, Staines.
Thursday 31st January, 7.00pm Uxbridge, Middlesex Suite, Hillingdon Civic Centre, Uxbridge.
Tuesday 5th February, 7.30pm Battersea, Belleville School, Webb's Road, Battersea SW11.
Wednesday 6th February, 7.00pm Greenford, Greenford Hall, Greenford Broadway, Greenford.
Thursday 7th February, 7.30pm Highbury, Highbury Baptist Church, corner of Highbury Place and Baalbec Road, opposite Highbury Fields, Highbury.
Friday 8th February, 7.30pm, Slough, Salvation Army Centre, Stoke Road, Slough.
Monday 11th February, 7.00pm Acton, St Mary's Church Hall, King Street, Acton.
Tuesday 12th February, 7.00pm Twickenham, Clarendon Hall, York House, Richmond Road, Twickenham.
Tuesday 12th February, 7.00pm Hammersmith, Hammersmith Town Hall, High Street, Hammersmith.
Monday 18th February, 7.45pm Ealing, Ealing Town Hall, Uxbridge Road, Ealing.
Monday 25th February, 7.00pm Westminster, Mass Rally in Central Halls, Westminster.
P.s. the image above is the Decleration and Standard of the Levellers of England, 1649.