From Sipson with love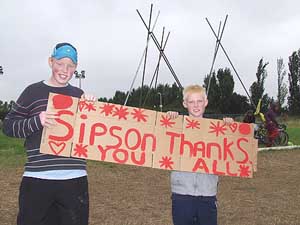 The spirit of the Climate Camp lives on. I was at two public meetings this week, in the villages which will be destroyed if BAA's plans go ahead, to make way for tons and tons of tarmac: one in Sipson, the village that would be completely wiped out; and the other in Harlington, the adjoining village.
When local MP John McDonnell praised the Climate Camp as the most important event to have taken place for decades in the fight against Heathrow expansion, both meetings, packed with local residents, burst into spontaneous applause.
The mood of the meetings was so different to those held here just a year ago. The general mood then was downbeat: a feeling that the airport and the authorities always get their way and that the fight would ultimately be in vain. People here had given up, conceded that the runway was inevitable, and were now just protesting to make a point, not to win.
But now feelings have changed. Where people once felt resigned, now there was a belief that we might, just might, win. That against the might of BAA, of industry, of Government, we stood a chance. Make no mistake; the Climate Camp was the reason for their change of mood. John McDonnell, who had spent time at the Camp, said it had turned Heathrow into an international iconic struggle against climate change. Heathrow residents now know they are not alone.
You could sense that the people of the villages felt, probably for the first time, that they were part of a worldwide movement that even the power of the aviation industry cannot stop. It's going to be one hell of a fight...