Climate activist 'glued to door' of lastminute.com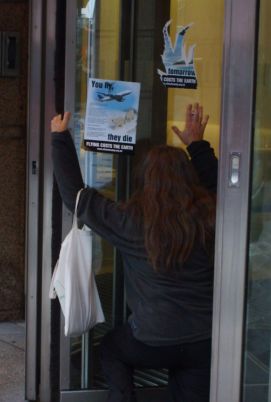 An environmental activist was so enraged that lastminute.com continue to push short haul flights whilst knowing the damage they do to the climate, that she super-glued herself to the front door of the company's Victoria HQ.
At 8am this morning, Penny Eastwood - a member of climate action group, Plane Stupid - pasted superglue over her hands and glued herself to the front doors of the building and by doing so blocked staff from entering their offices.
Before she was arrested, Penny said, "Whilst G8 leaders have simply spouted more hot air, I've showed what just one person can do to shut down climate criminals."
She added, "Lastminute.com irresponsibly encourage people to binge-fly five times a year. In other words, they're forcing the world towards the brink of eco-meltdown and all for a quick buck!"
Penny Eastwood is one of those planning to attend this summer's Camp for Climate Action at Heathrow.