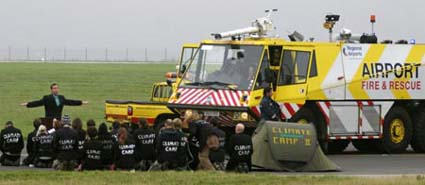 Environmental protestors have breached security at Nottingham East Midlands Airport and established a second camp for climate action - this time on an airport taxiway. Their aim is to stop carbon emissions from what they are describing as a climate change factory. A Baptist Minister whose former parish is in Nottingham is leading a remembrance service on the taxiway, in memory of the victims of climate change, reminding his congregation of the Bishop of London's comments that "Flying is a symptom of sin."
The Rev. Malcolm Carroll is conducting the service (from a pullpit he's constructed) with twenty five smartly dressed activists wearing suits who have chained themselves across the taxiway to prevent planes from leaving. Two tents, emblazoned with, Climate Camp have been pitched. The climate camp campaigners from action group Plane Stupid have pledged that this is part of a new wave of climate activism born at Drax Power Station in Yorkshire last month.
Making safety paramount, the protestors have taken steps to nullify the risk to the public by remaining on the taxiway rather than the runway thereby allowing planes to land in case of emergency. Police were immediately notified that this was a peaceful protest by environmental campaigners.
Nottingham East Midlands airport was chosen for the demonstration since it specialises in short haul flights, which are both unnecessary and unsustainable. A huge number of the flights at this airport take place at night making them more damaging to the climate and causing more harassment than usual to local residents.
Speaking for the activists, writer and campaigner George Monbiot, said, "The real security threat comes from climate change, which is killing over 160,000 people every year – that's the same as a 9/11 every week."
The Rev. Malcolm Carroll, a member of Plane Stupid, said, "As the Bishop of London rightly put it, the science of climate change now means that flying is a sin. Tony Blair has known for years that climate change presents the biggest danger to life on earth so why doesn't he do the Christian thing and ban unnecessary and unsustainable short haul flights?"
He continued:
"The Climate Camp at Drax was just the start. The people killing our planet should be put on notice; this direct action movement is going to be bigger than anything this country has seen before."
This protest comes during the Labour Party Conference but Plane Stupid is already planning a national day of action against short haul flights on November 6th during the UN International Climate talks in Nairobi.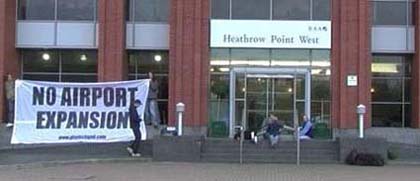 Environmental activists blockaded the Heathrow Headquarters of BAA, preventing employees from entering the building. The action marked the 60th birthday of Heathrow airport.
The action by campaign group, Plane Stupid, was in support of local people whose homes will be demolished if a third runway gets the go ahead. A small team of protestors used piping and chains to lock themselves across the main entrance to the company's offices, and have unfurled a banner reading, "No Airport Expansion".
Plane Stupid spokesman, Joss Garman, explained, "Since Heathrow is now 60, it's time BAA took a health check – or better, early retirement. Emissions continue to rise with aviation now the fastest growing cause of climate change and, like a cancer, Heathrow is swallowing up villages like Sipson – wiping established communities off the map."
He added, "In 60 years, Heathrow has grown from being a small local airport into a climate change factory. BAA's plan to expand the airport further puts them in the premier league of climate change criminals. BAA can be assured; today's action is just the start of our direct action campaign to stop airport expansion."
Last year 475,000 planes used Heathrow airport, with a plane landing at or taking off from the airport every 45 seconds throughout the day. If plans go ahead to make more use of the existing runways and build a third runway, flight numbers could exceed 700,000 according to the Civil Aviation Authority.
Air pollution levels are already above the recommended levels and, according to a report published in March 2006, would exceed the EU legal limits were a third runway to be built.
In 1980, the government approved Terminal 4 on the understanding that there would be a cap of 260,000 plans using the airport each year and it would be the last development at Heathrow. In 2001, Terminal 5 was given the go-ahead on the condition that flight numbers at the airport did not exceed 480,000 a year. Within two years, the government proposed a third runway which the government estimates will lead to at least 655,000 flights per year.
In 1995, as BAA sought permission for a 5th Terminal, they ruled out a third runway, writing in its company newspaper, Heathrow News, "BAA has said repeatedly, 'There will be no third runway.'"
John Stewart, Chair of HACAN Clearskies, said, "The story of Heathrow is one of deception from day one. The only difference is that these days BAA does it with more style and spin. They constantly try to re-assure their 'stakeholders' that they have their best interests at heart whilst all the time plotting further expansion."